The Course
Come and enjoy our beautiful public 9 hole, mid-length executive par 28 course nestled in the majestic setting of Summerland, British Columbia. Sumac Ridge Golf & Country Club Ltd offers club pull cart as well as power cart rentals, balls, gloves, equipment and soft goods! With an inventory of high quality equipment from brands such as Ping®, Nike®, Taylor Made® and Spalding, you'll find everything you need for a fun day of golf.
Our course is difficult and will challenge even seasoned golfers. But don't be scared away if you're a beginner, Sumac Ridge Golf & Country Club is a perfect place to learn the links.
| | |
| --- | --- |
| Monday - Sunday | 7:00 AM — 7:00 PM |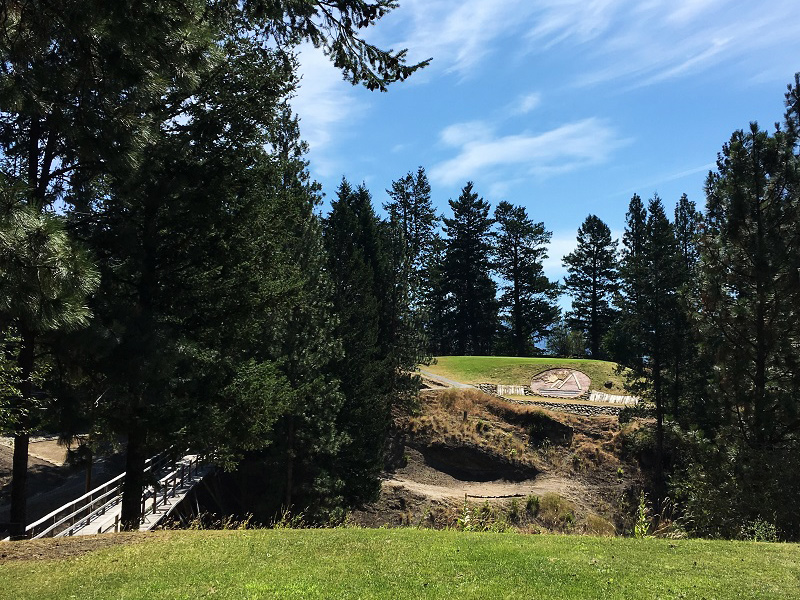 The daunting Hole 3 from the tee box
Hole 1
The starting hole at Sumac Ridge Golf & Country Club Ltd is a Par 3, slightly downhill and guarded in front by a pond. Most who possess local knowledge will attempt to "eliminate" the pond from the tee shot by trying to hit a slight draw, short right, and use the 10 to 15 foot elevated slope to help move the ball to the putting surface.
Hole 2
The second hole has a slightly elevated green to play, too. Any shot that's long, left or right leaves the player a difficult "blind" pitch to a green now running away from you. Anything middle green is good here.
Hole 3
The third hole is our signature hole. Although only 150 yards, it is all carry over a canyon. The green is generous in size; however, being slightly above the tee, the surface is not visible, so it makes the shot even more daunting. High, long and left is the only viable miss. Enjoy!
Hole 4
For most, the fourth hole is a long iron or hybrid, housing both sides, canyon right of green. Anything short or short left is a decent play.
Hole 5
The fifth hole has a downhill elevation change of 75 feet, with a long, deep green that is only 10 paces wide. Anything long and left is the "big house" jail. It's important to not over-club here. Finish with the back of the left hand at the flag if you really want to remain jail-free.
Hole 6
The sixth hole is a short par 4 with an O.B. right, rock of Gibraltar left. You may get a favourable kick; however, a shot "on a string" could reward you with an eagle.
Hole 7
On the seventh hole, most golfers use a fairway wood or a 3, 4, or 5 iron. Coming into the green from the left side is most favourable, as the terrain runs into the green from that side.
Hole 8
The eighth has a downhill elevation change of 100 ft. You should aim to hit the green; you will repair a huge juicy ball mark, which you won't mind. Because these greens hold, you have a birdie putt. Your playing partners may envy you by the time they are done.
Hole 9
The final hole is a great finish at 160 yards with a downhill elevation of 60 feet. It "cheats" for you left or right, as the green is below the right and left side. Finish with a birdie and the "odd" other will be quickly forgotten.
The Course